One of my goals for this month was linking up more with sweet green tangerine and her weekly link up, the.book.chat.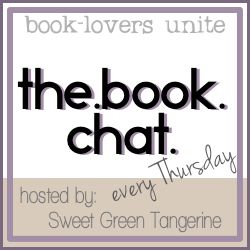 The topic for this week is one that I'm having a hard time relating to (ha!).
It's about characters that you relate well to.
I was hoping something would come to me quickly and that instantly I would know the most recent character I read that I really related to, but nothing came to mind.
I do remember many characters I don't relate to: Amy from Gone Girl, Tris from Divergent, Bella from Twilight, Katniss from the Hunger Games, Annajane from Spring Fever, just to name a few.
So then I started thinking that maybe I seek out books where I don't relate to the character.

Aren't books suppose to give you an escape? Take you to others worlds?

Maybe that's more just my taste.

I don't think I'd want to read about book about something similar to my life, and I think that translates to not wanting to

read about characters that are similar to me or that I can relate to.

One other thought I had was that I actually find ways in my mind to not relate myself to
characters. Whatever it is, I can think of a character in recent memory that I really relate to and I don't see that as being a bad thing!