It's Michigan vs Michigan State this weekend!!
This actually has a lot at stake for both teams, who ever wins this game will have a very good chance at winning the legends division in the Big Ten. Michigan has lost the last three and we are very hungry to take back the Paul Bunyan trophy and put little brother back in his place! This is an interesting rivalry since a lot of people outside of the state of Michigan don't realize its a big deal. People who live in Michigan say how annoying the state fans have become, but again that isn't seen outside of the state of Michigan (I guess not many state fans make it out of there...). So usually this is one of our lesser rivalries, but this year its going to be a big deal.
While I was a student at Michigan we beat state every year and I have some great memories from those games. The best football game I have ever been to was against MSU in 2004. Michigan was down by 17 points with under 9 minutes to play and that's when things got exciting. It was getting late, cold, and it was Halloween weekend so lots of students started to leave (a really really bad decision).
In the last 8 minutes Michigan was able to score 17 unanswered points to bring it to a tie (this was helped with a recovered onside kick and it might've been the first time I learned what that was ;). With a few seconds left state attempted a very long field goal. I was in the marching band at the time and during big games they would have us sit on the field so they could sell out seats. Our section happened to be on the field right behind the endzone so depth perception is a little off. Anyway, from our seats it looked like the field goal was good and I remember feeling crushed, but only for a second or two and realized the stadium was cheering because we were heading to overtime!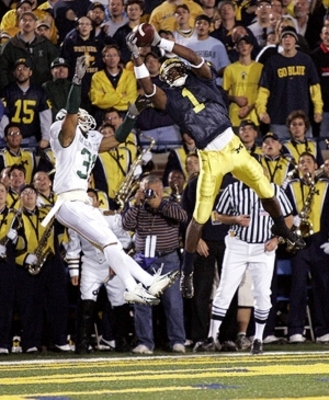 Edwards had a huge part in the comeback
Overtime was ridiculous since the played at the endzone that was right in front of us! The stadium was so loud and excited (well those that didn't leave early) and I think I was shaking the whole time (not sure if it was nerves or the cold, probably a combination). After one OT we were still tied, then after two we were STILL tied. Third overtime in college football means you have to go for the 2 point conversion if you get a touchdown. We were on offense first and scored a touchdown (yay!) then went for two, and Henne threw the ball to Massaquoi (who had some really bad drops in the game) and he caught it!! All our defense had to do was stop them, and they did!
Next thing I know we are rushing the field jumping around with the football team and cheering our hearts out! Rob and I watched a replay of this game yesterday and as we saw the band rush the field we recognized so many people and caught glimpses of each other in the clips of celebration they showed. Here are two videos of the second (second half comeback) and third (OT win) parts of the game (don't get down when we go down by 17, it gets better, trust me!), bonus points if you find me in the videos!
I don't have energy or time to write about any other games this weekend, I will be watching all of them but this is a big weekend for my Wolverines. Let's Go Blue beat msu!!!!!